We thought we would give you an update on the 2022 Federal Budget released last night. It's not often the government releases estimations on energy prices but due to the current energy crisis we are facing the expectations are that residential customers will face a significant increase in energy prices in the next 12 months of 50%.
20% is scheduled to hit before the end of 2022 with a further 30% scheduled for 2023.
Coupled with inflation the government has announced no subsidies will be handed out to residents to help cover this cost as it will further fuel inflation. The best way that you can cover yourself is by reducing your dependency to the energy grid with Solar and or Solar & Battery.
The winners will be the ones who get solar before the STC Federal Solar rebate drops off on 1st of January 23 almost 2 months away (and the system must be installed before that date in order to obtain the rebate).
The Australian Financial Review reports that "Treasurer Jim Chalmers flagged an aggressive regulatory crackdown in the energy market after the budget revealed households would be whacked with a 56 per cent increase in power bills over the next two years, leaving Labor's promise to cut electricity bills by $275 all but dead."
Electricity and gas will rise sharply as the cost is passed on to households, the budget said, with power bills set to rise 20 per cent in the second half of 2022 and a further 30 per cent in 2023-24.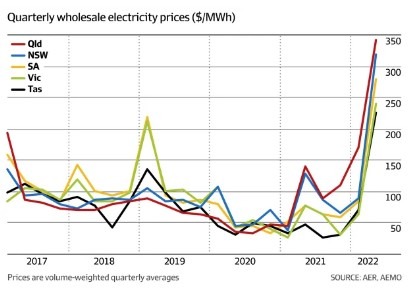 The wholesale energy market reported by AEMO (the energy regulator) currently looks as follows with no expectations that this will decline as everyday Australian foot the bill for a slow uptake in national renewable energy sources and an increase cost in fossil fuel generation.
Regardless of whether you were putting off Solar before now, hesitated, or can't find the funds to get started, it's time to re-think.
We have competitive fixed interest rate Greenloans for customers wishing to take up renewable options with no penalty to pay off early and in most circumstances these repayments will be lower than the amount you will save with a system before we even take in to consideration the rising costs of energy.